About us &raquo Our team &raquo Joanna Wehbe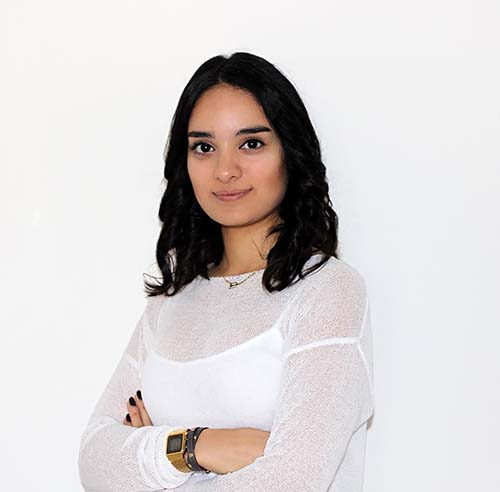 Joanna Wehbe
A focused and self-driven team member who is well known for her confidence, innovation, and diverse strategies. She has built experience in different sectors and has managed to overcome several challenges by turning obstacles into learning curves.
Joanna is a professional individual who displays an exceptional customer orientation, and who continuously develops unique and personalized relationships with clients through active communication and active listening. Joanna's proactive attitude, calm nature, and genuine concern for others' needs, allow her to establish and sustain trustworthiness with business partners, team members and stakeholders.
Prior to joining Tamayyaz, Joanna was a former Territory Account Manager in one of the biggest Lebanese Holdings operating for the MENA Market and represented Hewlett Packard (HP) across the UAE, Bahrain, Iraq and Egypt - a responsibility that entailed flexibility in understanding and fulfilling the needs of culturally diverse customers over the phone. As part of her responsibilities, Joanna had to grow the clients' database, introduce HP's products, create new opportunities for potential business and make sure to follow up with partners and distributors to ensure clients' satisfaction. Her main achievement was the ability to constantly reach her sales targets, which exceeded USD 3 million per year.
She then became an active member in a Learning & Development Department; she was responsible for providing the required logistics needs to ensure a smooth delivery of learning and development workshops, both in-house and external. As a Learning & Operations Coordinator, Joanna played a vital role in collecting clients' feedback on delivered solutions and used her analytical and pragmatic skills to highlight and report potential opportunities for improvement which brought her organization to a higher level of quality and efficiency.
Today, Joanna is the Key Account Manager at Tamayyaz, where she is greatly combining her academic background in Finance with her social and entrepreneurial skills; she is known to provide her clients with low-cost, low-risk and high-profit "best-fit" solutions. Her creative approach in seeking new opportunities combined with her genuine commitment to understanding clients' needs and delivering customized value have proven exceptionally effective and efficient.
Besides her professional experience, Joanna is an ex-scout leader and a camping enthusiast; she has a natural penchant for embracing challenges, maintaining workflow, and thriving in a fun and team oriented environment.