Our articles » A Christmas Carol - Lessons For Corporate Governance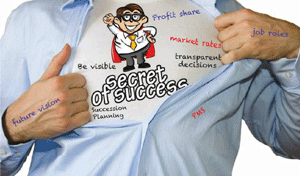 As we approach the end of 2013 and looking forward to 2014, I am reminded of the lessons we can reflect on from this wonderful book: "A Christmas Carol", by Charles Dickens.
The book centres on the life of Ebenezer Scrooge who is portrayed as a mean, penny-pinching character totally focused on money and his work, with no family or friends. By a twist of fate, he is visited by three ghosts who are sent to redeem him: the ghost of Christmas Past, Present and Future. Dickens takes us through a journey to understand how Scrooge became what he is, and how he understood the need for change to bring meaning and purpose to his future life. In the end, we understand how past events have shaped us to be what we are in the present and crucially, that we still have a choice to decide how the future will be, based on how we act.
Moving forward, I want to talk about people and some choices SME businesses must consider in 2014. Typicall, SME's have an over-reliance on a relatively small number of key employees for their success. They are usually trusted, reliable and aligned to the vision of the owners as a result of years of collaboration. They often have a key skillset, connections and vital experience. And, most likely in recent years, they have shown loyalty and personal sacrifice through difficult times.
Now, consider the future. Dubai has just been awarded Expo 2020 which is an amazing achievement and will bring great benefits to the UAE, and potentially to your business. There will be challenges too, specifically to retain your key staff in the coming years. Existing competitors and new market entrants will move quickly to attract high performers, and pay them better salaries and conditions. How are you placed to deal with this very real business risk? Retaining key employees and putting in place processes to do this is at the very heart of good corporate goverance. You are facing the future - past and present solutions and behaviours will not be enough. So, here are some suggestions to consider:
Share your future vision
Owners and senior managers must share their vision of the business for the next three years with key staff. You cannot expect people to follow you if you do not tell them where you are going. Write down the final version on one page, and share it with the key staff.
Define job roles and accountability
Sit with your key staff and work together to define their job description and/or update the older draft to make sure it properly reflects reality. Unless this is done, key staff will be frustrated and unclear what you expect of them. Agree and jointly sign the revised version.
Assess market rates
The cost of living will increase and the family pressures too on your employees. Don't rely on the past, and be realistic to accept that things may well change by a higher order of magnitude that you might like. A proactive salary increase now is a wiser course than a larger reactive increase when the key employee comes to you with a competitor offer letter.
Implement a fit for purpose performance management system (PMS)
Based on the company vision, job description and the business plan, put in place a fit for purpose PMS. At its simplest, this comprises writing 5 - 10 company and personal objectives for the next 12 months, and a formal progress review at least twice during the year.
Consider profit share
Whilst many SME owners baulk at the prospect of giving key employees shareholdings, a sensible first step is a profit-share based on agreement performance metrics. Make it objective and clear, commit to it, and regularly update on progress with the key selected staff.
Be visible and connected to your key staff
Make a commitment to spend extra time with your key staff and to listen to them. Expand conversations to sincerely understand more about their personal challenges. Often, you can do a lot without a lot of cost, and this connection makes a huge long-term impact and grows loyalty.
Dubai has just been awarded Expo 2020 which is an amazing achievement and will bring great benefits to the UAE, and potentially to your business.
Be consistent and transparent in your decisions
Key employees need to see consistent behaviours at senior management and owner level. Take time to ensure you are being consistent and transparent on your key decisions and in how you act towards them. If this requires personal change, take it slowly and carefully.
Succession Planning
As a contingency, identify potential successors to replace key staff and where you will search for them, both internally and externally. Make the connections and give those junior staff exposure to the roles of the key staff. Being ready gives you peace of mind.
Charles Dicken's book: "A Christmas Carol" gives us valuable lessons on how we need to change to be successful, based on a sometimes painful assessment of where we are now and how we got there. It is a timely and timeless reminder about key choices we face as we move into an existing 2014 and beyond. Unless you as an SME owner make those future choices, your key staff will make the choices for you. Seek help and support from trusted friends or external advisors if necessary. It is a scary prospect, perhaps just like being visited by a ghost, but there is a real opportunity for those who take this goverance challenge, carefully and with real commitment. Best wishes and good luck for 2014!